Anyone having same problem? datocms.com is down now & my client's website also not working properly? Some assets cant be loaded Hello @giang where are you based? We haven't experienced any downtime here nor on our status page: https://status.datocms.com/ which is doing pings from various regions across the globe. Let me know so that we can investigate further, thanks!
Hey @mat_jack, I based in Singapore, this morning, there was a downtime like about 20mins, maybe more, my client couldnt access their site so they notified me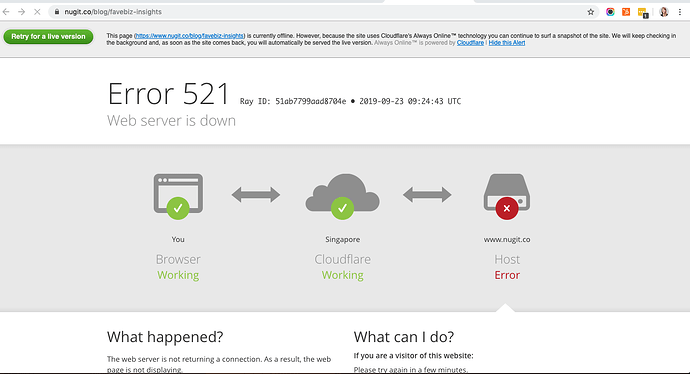 I tried to look at Netlify status page but couldnt find any problem as well, they are experiencing this 521 error now, the site takes a signification amount of time to load
OK, I've double checked and we are doing pings to our website only from EU and North America.
But regarding your website being down, how are you fetching data from DatoCMS? Are you using GraphQL? Because we have checks from Singapore of our GraphQL API and they were all good.
I would like to understand if we have a problem in our testing tools or if your site was down for another reason. Thank you!
Hi @mat_jack, yes we are using GraphQL & Gastby v1
If you are using our source plugin it's using the REST API under the hood, but nonetheless Gatsby should do a static build of the site so you should not be using our APIs after the build, am I right? Once the build is done Dato is only returning the assets, that shouldn't bring down your site completely as you were showing above, do you agree?
@mat_jack1Im not the developer so I dont really know all the details, but yes, it's not always show that 521 error, most of the time the site loading very slowly
I think you need to check with your developers then, because I think there's something going wrong on your side as we are not experiencing any errors or lags on our side

@mat_jack1 yes I will ask him to have a look, just now he is on leave. Also, the admin dashboard loading very slowly, so there definitely something not right here

Thank you very much for that update. We are hosted on Netlify as well. That would explain the problem then